Heart-Shaped Cosmetic Organizer is Transparent with the long-lasting look. Ideal for serving as a lipsticks stand, makeup brushes and a perfect fashion holder. Fantastic Lipstick Makeup tool display stands Holder Case; it will organize your desk wisely.
The acrylic material gives it a beautiful look—100 % brand new and high quality, easy to use and lightweight—moreover, great ideas to organize stationery, cosmetic, makeup etc. Besides, the heart-shaped makes it looks, presentable makeup organizer.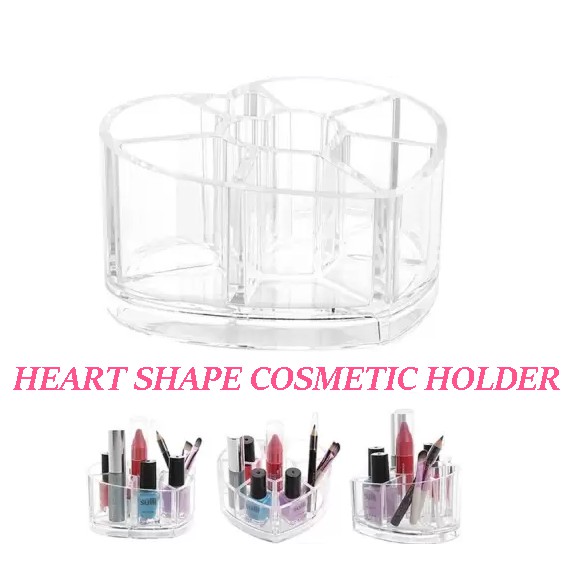 Additionally, this heart-shaped design has eight compartments to organize your cosmetics accurately. Also work great for cotton swabs, eye/ lip pencils, bobby pins etc. With eight compartments, the possibilities are endless, helping you find what you need faster than ever.
Transparent design and easy to clean

Perfect for organizing your cosmetics & makeup brushes 

Firstly, Acrylic material is ideal for use in the home or professional makeup studio

Secondly,High quality and crystal-clear design match any home decor in your room.

Imported heart-shaped organizer

However best to organize and store lipstick makeup tubes, brushes, beauty sponges and much more

Heart-Shaped Cosmetic Organizer is made of high-density acrylic, looks stylish and feels sturdy

Besides, eight compartments easily separate your smaller makeup brushes from your larger ones